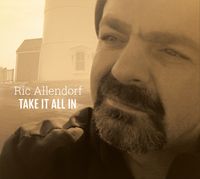 Looking for my music?
Purchase and download my debut CD 'Take It All In' by clicking here. These songs are high-quality, mastered and radio-ready files with the proper ID3 tags and CD inserts with liner notes.

Prefer a physical copy? I've got you covered. Just select "CD + Download" at the top of the page and follow the ordering process. Thank you!
Ric started his musical life north of Boston in a suburban home filled with instruments and songs. Influenced by showtune-loving parents and a Berklee-trained older brother, Ric spent hours listening to the family's diverse record collection, taking lessons on accordion and noodling on the living room piano. At the age of 15, that same brother taught him "Blackbird" on a borrowed guitar, sparking a lifelong interest in fingerstyle playing. 
Since writing his first song in 2014, Ric has been a finalist for three performing songwriter competitions (with a third place win in 2021) and the CT Folk Festival Emerging Artist finalists showcase; he had the special honor of being presented by WAMC radio show host Wanda Fischer in the 2021 NERFA Folk DJ Showcase. He performed on the 2019 Providence Folk Festival Songcrafter Stage, the 2018 and 2021 Club Passim Campfire Festivals, and nearly a dozen Club Passim Tribute Nights including those for Emmylou Harris, Bob Dylan, Ellis Paul, and Nanci Griffith. Ric's performance history also includes opening for Archie Fisher, Abbie Gardner, Ray Wylie Hubbard, and Boxcar Lilies.

In January of 2018, Ric released his debut CD 'Take It All In' and continues to feature at venues throughout southern New England. Between gigs, Ric teaches illustration at MassArt in Boston and freelances as a visual artist; designing CDs, posters and logos for fellow musicians and music venues (for design examples, see the latest CD release 'After The Flood' by Chris LaVancher, or 'This Road' by Andy & Judy). 
0:00/4:35

0:00/4:17

0:00/4:28
"Ric's ability to listen, absorb, interpret, and deliver just gets better and better. He has come so far in the last couple of years and developed into an artist I love to listen to."
– David Roth, touring folk musician
 
"I can't decide whether my favorite part of Ric's performance was hearing his delightfully vibrant voice, or hearing his amazing songs: he's the whole package! Definitely on a level of talent equal to some of our established artists--can't wait to have him back! I've already sent his name around to my peers!"
– Ellen Sturgis; Executive Director of Amazing Things Arts Center, Framingham, MA

"Listening to Ric Allendorf's music is like reconnecting with an old friend. His sound is instantly familiar, his lyrics thoughtful, his melodies pulling you in. From lyrical tinges of life in New England to images of hope, Ric's music is uplifting, his songs offering a bit of comfort from any storm that life might be throwing your way."
– Stephen Ide; Artistic Director, Rose Garden Coffeehouse, Mansfield, MA