New Cover Video for Sandy Denny's 'Who Knows Where The Time Goes'
I'm honored to present this new cover video, originally filmed for the Club Passim Tribute to Nanci Griffith – a song that she covered so deftly for the Transatlantic Sessions and her album Other Voices, Too in 1998. Following her lead, I wanted to honor this longtime folk music standard with my own interpretation. Hope you enjoy it!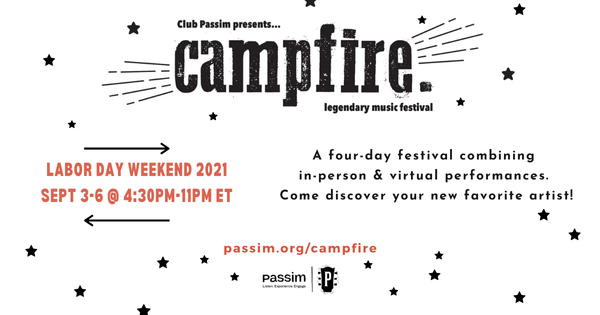 Club Passim Labor Day campfire.festival is here!
I'm excited to be sharing a round with Louise Mosrey, Lay Low Moon, and Jake Swamp & the Pines on September 5th starting at 6:15pm. But don't miss the great music scheduled all weekend! This year's event will be a combination of in-person and virtual performances starting at 4:30pm on Friday. You can stream the whole thing from Club Passim's website, Facebook, and Youtube pages. 
For information about day or weekend passes, and a full listing of the scheduled performers for each day, visit the campfire.festival main page. (Proof of vaccination is required for attendance)
05/19/2021 - Club Passim Tribute to Bob Dylan
Cover of Bob Dylan's "Every Grain of Sand" from livestream broadcast
Youtube updates: Fall 2020!

The pandemic has caused many musicians to redefine how they connect to their listeners, and adapt to streaming and revenue platforms. While I've been devouring the output of so many of my musician friends and heroes, my own pursuits have taken a lower priority. Recently, however, I had the opportunity to take part in the Serendipity Songwriter Showcase, and the Club Passim Tributes to the year 2010, and to Ellis Paul, in addition to featuring on the Vanilla Bean Cafe open mic livestream. I invite you to visit my Youtube channel to watch song clips from these events. And get on my mailing list for more songs and news to come very soon!