Coming up on August 26!
I'm very excited to be participating in another great songwriter round at One Broadway Collaborative in Lawrence, MA with two musician-songwriters that I've admired for years:

• Chris LaVancher is an acclaimed up-and-coming musician who most recently was a finalist in the 2022 Falcon Ridge Folk Festival's 'Emerging Artist Showcase'. Some of you may also recall that I had the great honor of creating the artwork for his latest CD, 'After The Flood'.

• Doug Kwartler is an exceptional Americana artist making up half of the rapidly rising folk duo The Lied To's with his partner Susan Levine. He is also a multi-instrumentalist and has been establishing himself as one of the finest recording engineers of folk/indie/singer-songwriters in the Northeast at his own Hollow Body Studios. 

• One Broadway Collaborative is an active multi-disciplinary, (501) non-profit arts venue that supports the greater community with collaborations and shows that feature music, theatre, comedy, special events, support groups, rehearsal spaces, and more. The venue, run by seasoned organizer Aaron Tornberg, is supported through memberships, space rentals, ticket sales, grants and donations. And it's a great room to play in!
Reserve your seats today and come see/hear/feel the music!
 
SongBreak with Linda Sussman & Josie Bello
I'm so thankful to Linda Sussman and Josie Bello for having me on the Facebook music series SongBreak this past Sunday, 7/10. The discussion about songs and the writing process was engaging and I enjoyed our instant kinship around shared music appreciation. Great songs were shared too! Here's is the archived livestream for those that missed it: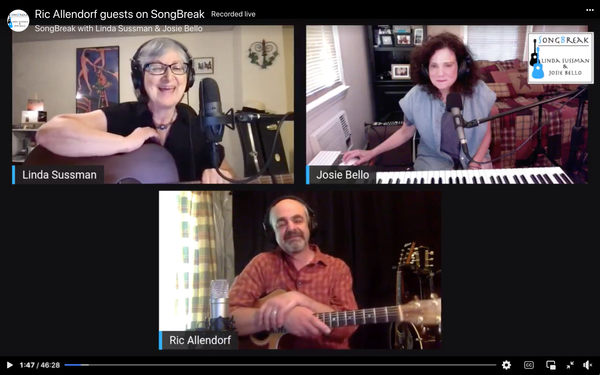 New Spring/Summer Gigs for 2022
Recognizing the daily challenges so many of us are facing, both personally and globally, I am uplifted by the return to playing and experiencing live music again. Sharing this part of myself that has long been my life raft, and watching how sound and song can anchor others, is one of the best expressions I've known. If you are interested in listening too, please visit my show calendar to see my upcoming dates for spring and summer, including my favorite outdoor markets and eateries around southeast New England. There are more in planning stages to be added soon, so sign up for my newsletter to keep updated. Thanks for your interest!